Evangelion: 3.0+1.0 Thrice Upon a Time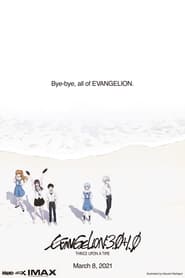 Evangelion: 3.0+1.0 Thrice Upon a Time
In the aftermath of the Fourth Impact, stranded without their Evangelions, Shinji, Asuka, and Rei search for refuge in the desolate red remains of Tokyo-3. But the danger to the world is far from over. A new impact is looming on the horizon—one that will prove to be the true end of Evangelion.
Release: Mar 08, 2021
Studio: khara, THE KLOCKWORX, Toei Company, Toho Company, Ltd.
Country: Japan
Language: English, Français, 日本語
Genre: Animation, Action, Drama, Science Fiction
Keywords: technology, dystopia, mecha, battle, cyber & mecha, anime, father son conflict, humanity under attack, post apocalypse
Duration: 155 minutes
Quality: HD
Popularity: 351.369
6.5
Rating: